Jack Pellicci '60 Gives Thanks to West Point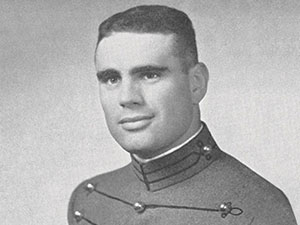 Brigadier General (R) Jack Pellicci '60 was participating in a corporate coaching program some years back when he received feedback that changed his perspective on leadership and on giving.
"Jack, you've had a great career in the military, and you are having a great career at Oracle," one participant said. "Now you need to go from success to significance."
"That phrase—from success to significance," General Pellicci says, "has made a big difference in my approach as I consider the question: How do you give back to the people and institutions that supported you, the people who helped you?"
Support through the West Point Association of Graduates is an important means by which Pellicci gives thanks to his alma mater. Recently General Pellicci gave back by donating appreciated stock to fund a charitable gift annuity that provides him income for life, with the remainder going to support West Point and the Long Gray Line.
"A number of people in my class have asked me how I made my gift, and I want them to know how easy it is. The advantage is that I didn't have to pay all the capital-gain tax on those stocks, and I got a tax deduction for the gift," he said. "The annuity gives me a bit of money back on a quarterly basis, but I give that back to West Point through my class."
"For many years I couldn't give back much," Pellicci said. "But I knew this was a responsibility that I had to West Point, and now I am in a position to fulfill that responsibility."
"When institutions like West Point don't get enough (federal funding) to be the best in the world, you have to figure out how much (private funding) you need to raise to become the best," General Pellicci said. "We have to make up this 'Margin of Excellence' to train our future military leaders to be the best in the world. And that is achieving significance."
General Pellicci grew up just 50 miles from West Point. He went to the Academy straight out of high school when many cadets were first going to prep school or had a year or two of college, and he struggled at the beginning.
"I did not have a very good plebe year," General Pellicci recalled. "I thought I was prepared academically, but I wasn't. I just couldn't believe I was in the bottom 20% of my class that first year."
But General Pellicci worked hard, graduated in the top half of his class, and learned one of his most important lessons—perseverance.
"My class started with 950 and graduated 550. But I was not going to let my family down or let myself down. I knew I was going to be an Infantry Airborne Ranger and that to be a good leader, you have to persevere."
Upon graduation General Pellicci was commissioned a 2nd Lieutenant in the infantry branch. The first thing he did was marry his wife Susan, whom he had met while a cadet. Then he was deployed to Berlin, Germany, and was there the day the Wall went up. As an infantry officer, Pellicci served from platoon to brigade level and in staff assignments from battalion to division level in the U.S., Europe, and Asia—including two tours in Vietnam.
Pellicci earned a master's degree in mechanical engineering from Georgia Tech and taught engineering fundamentals and computer sciences at West Point for three years. Eventually he served as Commanding General of the Army's Personnel Information Systems Command, which was responsible for designing and developing automated systems for the Total Army Personnel community. He retired from the Army in 1992 after 32 years.
General Pellicci then joined Oracle Corporation for 15 years, where he was able to hire many military officers while leading the business development group for Oracle's government, education, health, and aerospace/defense industries and the global public sector group. After leaving Oracle, he joined Intergraph Corporation and became President and CEO of Intergraph Government Solutions. He now runs his own software reseller company and is enjoying his four children and seven grandchildren and serving as chairman of the board of directors of the National Defense University Foundation.
With his 60th West Point reunion, General Pellicci strongly endorsed the selection his class made for its gift project—the Class of 1960 Cyber Research Center Endowment to help with cyber security and defense, an area of personal and professional interest.